I'm honored to be taking part in the Staurolite Release Tour with magical fantasy author Marsha A. Moore. Staurolite is the fourth volume of Marsha's Enchanted Bookstore Legends series, and it looks to be an exciting read.
Marsha has been a member of the Magic Appreciation Tour for over a year now, and I sincerely appreciate how energetic and generous she has been with the other authors on the tour. I'm grateful to have this chance to return the favor.
For this stop on Marsha's tour, she agreed to do an interview, which gave me a chance to ask her about her new book and slip in a few questions about what it's like to write romantic fantasy. You may be surprised by her answers! Thank you, Marsha, for giving such thoughtful responses to my questions.
Interview with Marsha A. Moore
How much of yourself do you see in your lead character Lyra? Did you model her sensibilities after your own, or did you set out to write someone very different from yourself?
It's funny; the more I look at this story, the more of myself I see. My heroine, Lyra, is very much connected to me. Even in the first chapter of the first book, the childhood memories brought to her mind by Cullen's magical tea are actually all mine. How Lyra interacts with her Aunt Jean was a way for me to work through my own issues when my mother's health failed. As the series progresses, Lyra must continue goals established by the previous Scribes, who were strong females she descended from. In much the same way, I continue to uphold some of my mother's values and ideals after she has passed. Some scenes/themes intentionally connect to my own experiences, like those, and others surprise me much later when I'm polishing my draft to send to my editor. I shake my head and hope no one other than my crit partners can identify the stranger similarities.
Your Enchanted Bookstore Legends series is now on its fourth volume with Staurolite, and it sounds like the Dark Realm has really stepped up its game. Is this the grand finale? Or do you have more volumes planned?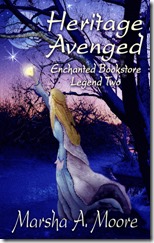 I'm presently writing the fifth and final book of my Enchanted Bookstore Legends, entitled Quintessence. In that book, there will be the ultimate showdown between good and evil in the culmination of the epic high fantasy. I'm expecting a fall release for Quintessence.
I'm concurrently writing a new standalone book that has more subtle magical elements, where reality and magic blur in the magical realism genre. I'm eager to work with that subgenre because there are fewer set parameters/tropes compared to the high fantasy I've written for many years. I'm also eagerly planning a magical realism series that I'll spend much of next year immersed in.
That sounds like a lot of fun, Marsha. I wish you the best of luck with it.
With Staurolite, it looks like you've added a new dimension to your magic system: gemstones. How do gemstones integrate with your existing astrological/elemental-based system?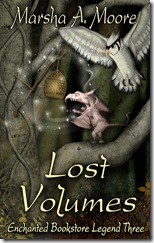 The gemstones are definitely connected to the existing astrological/elemental-based system. Ancient lore has drawn connections of certain gems to the elements of nature: fire, earth, air, and water.
Previous books in the series explored those connections, especially Heritage Avenged (book #2). Using gemstones corresponding to elemental powers was planned from the beginning, although the information becomes pivotal in the current release, Staurolite (book #4).
In Staurolite, Lyra reads the recently recovered books written by her ancestors, who were the previous Scribes. She learns that there are four lost keystones that together can channel power from nature to the Alliance. Acquiring that power is vital since the land is under siege by the evil Dark Realm. The four keystones correspond to the four elements of nature: the Emtori Ruby is a fire stone; the Pearl of Pendola aligns with water; the moonstone from Aria connects with air; the fluorite from Indiana is an earth stone. And there is one gemstone that can control them all, both keystones and elements—Staurolite. It corresponds to the fifth element of nature, ether, the underlying essence of everything. While every magical being in Dragonspeir gains energy from their birthmate star which connects to only one element of nature, Lyra is different. She alone has the power to work the Staurolite gemstone.
As a romantic fantasy author, would you say your readers are fantasy readers who also enjoy the romantic elements of your stories, or romance readers who also enjoy the fantasy elements?
Most of my readers are fantasy readers who like romantic elements. Initially, with my first publication three years ago, I attempted to market to romance readers who wanted paranormal and fantasy elements. That really didn't work for me. My stories are primarily fantasy with subplots of romance. I've done far better marketing to fantasy readers.
What would you say is the biggest challenge with writing romantic fantasy? Was it easy to merge the two genres?
I've always found combining fantasy and romance very natural. That may be because fantasy is my primary theme and romance is secondary. I include romantic elements to be able to make my characters more vulnerable. Their strengths and weaknesses are more apparent through the development of that close relationship. I enjoy combining genres. Heritage Avenged (book #2) even has another subplot of a murder mystery.
What advice would you give to other authors interested in writing romantic fantasy?
I think it's important when plotting the book to decide which theme, the romance or the fantasy, will be dominant, then work to maintain that so readers won't be confused. As a beginning writer, that was a difficult question for me to answer before I actually worked on a tangible outline for the story.
Thank you, Daniel, for such a great interview!
*****
You're welcome, Marsha! It was fun coming up with questions and your answers were enlightening. Thanks for including The Vaetra Files on your tour.
To my readers, I hope you enjoyed the interview. If you would like to check out The Enchanted Bookstore Legends, please use the links below.
---
About Staurolite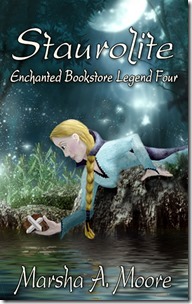 Lyra McCauley, current Scribe of the Alliance, is the only one who can decode magic hidden in the recently retrieved ancient texts written by her ancestors, the first four Scribes. Information in those writings can help Lyra locate the four missing keystones, which will restore power to the Alliance and allow overthrow of the Dark Realm. With peace restored, she and her beloved, Cullen, could finally marry.
Time is short with the Black Dragon's Dark Realm increasing attacks to avenge the death of his heir.
Many innocent lives are lost. Alliance residents are forced into hiding. Magicals and blue dragons follow leadership of the Imperial Dragon and the other three Guardians into battle to defend the Alliance.
While Lyra unlocks the ancient magic, she opens herself up to scribal powers from her ancestors. She alone can fight the deadliest of the Dark Realm's forces—the cimafa stealth dragons—but at a cost. The energy flux threatens her health and ability to learn where to find the missing keystones. Can Lyra overcome this shrewd tactic of the Black Dragon to decimate the Alliance?
Other books in the series:
Seeking a Scribe: Enchanted Bookstore Legend One
Heritage Avenged: Enchanted Bookstore Legend Two
Lost Volumes: Enchanted Bookstore Legend Three
---
About Marsha A. Moore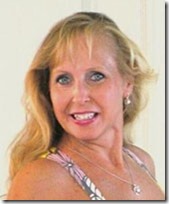 Marsha A. Moore is an author of fantasy romance. Much of her life feeds the creative flow she uses to weave highly imaginative tales.
The magic of art and nature often spark life into her writing, as well as watercolor painting and drawing. After a move from Toledo to Tampa in 2008, she's happily transformed into a Floridian, in love with the outdoors. Marsha is crazy about cycling. She lives with her husband on a large saltwater lagoon, where taking her kayak out for an hour or more is a real treat. She never has enough days spent at the beach, usually scribbling away at stories with toes wiggling in the sand. Every day at the beach is magical! She's been a yoga enthusiast for over a decade and is excited to be taking part in a Kripalu yoga teacher training program during 2013. That spiritual quest helps her explore the mystical side of fantasy.