When fantasy author Greg Turnquist asked me if I'd be willing to post an interview with him on my blog, I was happy to oblige. I critiqued an early draft of his forthcoming novel Darklight and enjoyed it. The story world was fresh and his characters interesting.
Darklight is now under contract for publication, and while he's waiting for the slow wheels of traditional publishing to make his novel available, Greg has released a couple of short stories that are also set in the Darklight story world: The Job and Uprising.
Greg is currently celebrating the recent release of The Job, which you can download for free through his web site (more information and links are available at the end of the interview). You can also get a digital copy of Uprising for free by signing up for his newsletter.
On to the interview!
---
Interview with Greg Turnquist
My interview questions are in bold, and Greg's responses follow. When I had additional comments, they are prefixed with "Daniel says." Have fun!
What inspired you to write a prequel?
In my novel, Darklight, there is a moment of revelation. One of the characters makes reference to an event predating the novel. I have always had details of this event in my mind as part of the backstory. It was at the 2015 Clarksville Writers Conference where I was challenged to write a short story, and I ran with this idea.
I have shared this story with my critique group with hopes of someday sharing it with the world. When I learned about the idea of giving away a piece of your work to help discover your fans, I leapt at the idea of sharing this fun story.
How was writing a short story different from writing a novel? I'm guessing you enjoyed it, since you've now written two short stories in your Darklight Chronicles series.
When you write a novel, the experience can take a really long time. I remember crossing the 50,000 word boundary, and suddenly worrying. "What am I doing?" With a short story, I didn't spend as much time thinking about setup and chaining together tension. Since my short story is one scene, I instead thought about the tension of each place they were in and making you want to "turn the paragraph" to see what would unfold.
Do I enjoy it? Sure do! Like I said, this short story was about a back story element that had been percolating in my mind for a couple years. The other (Uprising, available for free if you join my newsletter) tells the story of how my characters got into the calamity they now face in my main novel. This turned out to require five scenes, though it's all from the same character's point of view.
Daniel says: I know what you mean by the "what am I doing?" feeling. After years of writing non-fiction, I wrote the first act of my first novel as an experiment to try my hand at fiction. It was fun, but I reached a point where I knew I had to learn more about the craft before I could figure out how to shape the rest of the story.
Tell me a bit about your main character and what drew you to expressing your story through her.
For the backdrop, I had always been inspired by underdogs and people thrown into challenging places. Great works like Dune by Frank Herbert come to mind with the people of Arrakis surviving the hostile desert. I imagined a world buried underneath a city. A vast set of large tunnels in pitch black. Exactly who could survive such a claustrophobic place? Someone who had spent their whole life slinking around in darkness!
Having played D&D as a kid, I imagined a thief that had grown up on the streets. To dial up the contrast, I dismissed some hunk dude, and instead picked a small slip of a girl, maybe 19 years old. And as I wrote her first scenes, it became clear that she wouldn't just fit into this dank, dark world. She would relish it. And who doesn't chuckle at a thief's ability to pilfer things when no one is looking?
Daniel says: D&D has "informed" many of my imaginings, I'm sure. Every once in a while, I still drag out my old Monster Manual when I'm looking for ideas about myths, legends, and paranormal abilities.
Did you find it difficult to write from a female perspective? On a related note, how were gender roles defined in your story world? Did you model them on The Real World?
To kick things off, I wanted Snitch to be confident, talented, and slick. In my character template, it reads, "No one gets the jump on Snitch".
After reading all the scenes, my wife asked if there was going to be any hint of relationships between Snitch or any of the other characters. I had not considered that! But noodling over it for several weeks, I went back and worked that into my novel. And it felt richer. Stemming from that is a hint of something between her and James in THE JOB, as well as in my later writing. You'll have to read the rest to find out!
When it comes to gender roles, to be honest, I didn't sit down to write thinking "here is how I want to depict men and women". I rather wanted to escape from the tension we experience in today's news. I am happy to have depicted my world's ensemble cast with a mixture of men AND women, each with important roles to fill (plot roles, not gender roles). But I'm not here to make a statement, just have a little fun stirred in with adventure.
Daniel says: As readers, we often think of sci-fi/fantasy as a way to escape the modern world, but I think that's true for writers as well. I know that was part of my motivation for also "trying to have a little fun stirred in with adventure." Another motivation for me was that I was getting really tired of the direction fantasy was going, and I wanted to see a return to pre-Grimdark times when stories were more adventurous than angsty and had happy endings that weren't "at the cost of everything we loved."
We've covered your setting and protagonist a bit, so let's flip to the other side. What can you reveal about the villain in Darklight?
I want to clarify something real fast. The villain in Darklight is only mentioned in passing in my short story, The Job. It's in Darklight itself that you get to discover who this man is.
To delve into the details, I remember reading On Writing by Stephen King how he spent a lot of time thinking about the senator in The Dead Zone that Johnny ends up shooting. King mentions that he wanted to take the whole idea of someone being assassinated and "turn the tables" by making the victim the villain while the shooter was the hero.
In a sense, our villains are a lot more life-like when the reader is challenged to hate them whole heartedly. If the reader can "see his point of view," it draws us in and seems less force fed. I wanted my villain, Melicose (mentioned in the first scene, so no spoilers there) as someone who saw a problem early with the old system and rose to combat it, but the choices he made led him down an evil path. And ultimately, he stumbled onto something that took his evil to the next level, all the way to final chapter.
Without revealing too much, I can tell you this. He's a bad dude when it comes to combat. He spars daily to keep up his training. Melicose is a master of weapons and is quite charismatic. He leads from the front meaning that when he mounts his horse to lead a unit, everyone follows him. He demands much from the men serving under him, which living in a military town, I can respect. When he confronts anyone, he always has the upper hand. How can the heroes possibly defeat this man?
Daniel says: Good stuff. I like villains who have credible passions and motivations, even if I can't personally relate to them. When writing my own villains and supporting characters, I try to remember that every character is the hero of his/her own story.
* * * * *
I hope you enjoyed the interview. It was derived from a fun process of back-and-forth emails between Greg and I. It takes longer to do an interview that way, but I think it results in a more interesting exchange than when using a set of "canned" questions.
Thanks for reading!
---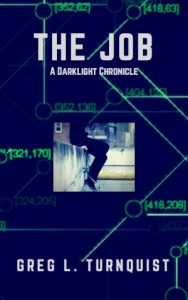 About The Job, A Darklight Chronicle
What if a pickpocket had a change of heart?
Snitch and her partner in crime decide to knock over a pawn shop. But something goes wrong. What should she do next?
---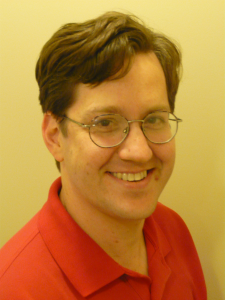 About Greg Turnquist
Greg has read scifi since he was a kid including Asimov, Herbert, Saberhagen, and Del Rey. Years ago, the idea of a futuristic world reduced to a medieval existence began to bounce around in his head. He also loves slinging code as a software geek, and has written several non-fiction books. He lives in middle Tennessee with his wife and family.