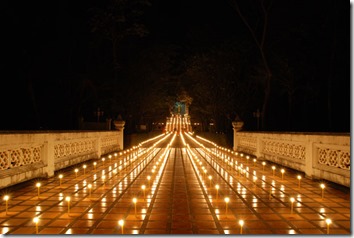 Power Of Light by Nat Sakunworarat
Revision is a path of illumination
for the story as well as for the writer within.
Before I started writing fiction, I picked up a few books on the subject to learn what was involved. The books were inspirational, but I quickly understood that the only way I was truly going to learn to write fiction was to start writing.
Once I did start writing, specific questions and problems came up. My writing library expanded as I went in search of answers and solutions.
All of that "book learning" has been helpful, but I've discovered that I have to practice many of the skills I learn about before I can internalize them. Some skills come naturally to me, which is to say I have an intuitive understanding of them and don't have to work at incorporating them into my writing. Other skills are not so intuitive, and I don't recognize mistakes related to them as I write.
While writing the first draft of my story, I'm in "create mode" and only the lessons I've fully internalized flow into my writing. For example, the first draft of Vaetra Unveiled (Vaetra Chronicles, Book 1) was rife with adverbs. My MFA beta reader pointed them out repeatedly. The process of revising the manuscript to remove them helped me internalize the lesson that "one should avoid adverbs." By comparison, my first draft of Vaetra Untrained (Vaetra Chronicles, Book 2) did not have that particular problem because every time I was tempted to use an adverb, a little alarm would go off in my head.
Some lessons are apparently harder to learn than others. I still have to watch my writing carefully for passive structure and too much description. My tendency to over-describe probably comes from years of writing non-fiction. I'm not sure where the passive structure comes from, but I have seen that it is a common failing in writers with a strong technical background.
I'm discovering that critique, which is essentially revising someone else's work, is also good for internalizing writing lessons. Critique engages my internal editor the same way revising my own work does. By expressing my observations, I reinforce the lessons I'm passing along to the other writer.
Many of my writing acquaintances despise revision, but I welcome it. My work is always stronger after revision than it was before. But most of all, I like revision because it helps me learn to be a better writer.
*****
How about you? How do you learn to be a better writer? Do you look forward to revision? Do you agree that revision is a good teacher? Tell me in the comments!