As I continue to work through the Snowflake Method and develop my story, I occasionally get side-tracked by ideas for "how stuff works" in my story world. On the one hand, it's exciting to add detail that breathes life into this fantasy world I'm building, but on the other hand, I have to be careful not to get too distracted from the job at hand, which is to write a novel.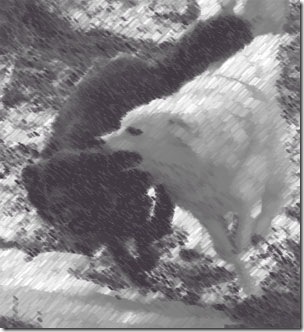 Still, when I commented on editor Victoria Mixon's blog about what I was up to, I got back the compliment, "that's the kind of attention to detail that gave J.R.R. Tolkien the fabulous, in-depth material that made his name." I suppose I could be in worse company!
My most recent distraction had to do with figuring out how potions work and how lycanthropy works. Those may seem like different subjects altogether, but in my world (which doesn't have a name quite yet) they are closely related.
I won't go into the full details of how potions work here. I'll post another article in the Theory of Vaetra section of the blog about that soon. Suffice it to say that potions are like magical devices: they are the physical implementation of a magic incantation (or "spell").
How do potions relate to lycanthropy?
The term "lycanthrope" literally translates from Greek as "wolf human," although the term is sometimes used generically to mean any kind of were creature. Classic werewolf mythology would have you believe that lycanthropy works like some kind of communicable blood disease. You can "catch" it from a werewolf by being scratched or bitten. Once infected, every month at the full moon (plus or minus a few days) you transform into something with a lot of wolf characteristics. Sometimes werewolves are portrayed as man beasts, and other times as just extra large and vicious wolves. The transformation occurs at dusk and reverts at dawn.
In my world, lycanthropy is a drug, not a disease. When you consume a Lycanthropy Potion, you are triggering a transformation incantation that turns you into a wolf. How long you stay a wolf and how clearly you are able to still think like a human depends upon the strength of the potion. Lycanthropy Potions only work at night: sunlight kills the spell effects.
The potion turns you completely into a wolf. However, like most transformation spells in my world, lycanthropy follows the "conservation of matter" rule, which means you are a wolf of equal weight to your human form. Depending upon the human, that could make for a pretty big wolf (real wolves average 100 pounds or less).
What about the full moon?
The full moon has nothing to do with when you can use a Lycanthropy Potion, but it has everything to do with when you can create one.
An alchemist (who is a specially-trained sorcerer), can only create a lycanthropy potion at night during a full moon. The strongest potions are made when the moon is unobscured and high in the sky, a lunar eclipse being the most potent time of all.
Why would anyone want to become a werewolf?
When I explained how you have to drink a potion to become a werewolf, my wife asked me why anyone would want to do that. The question surprised me, actually.
Can you imagine being able to become a wolf for part of the night? Experience the forest through canine senses? Move more silently and stealthily than ever possible as a human? Run faster than ever? Really lay your head back and howl at the moon? I think that would be incredibly fun! Well, right up until some dumb-ass rancher shoots you, of course.
Where does lycanthropy fit into my story?
My story includes a group of teenagers who also think being a wolf is a blast. They regularly meet out near the forest in the evening and drink up. Their transformed little "pack" cruises the forest and returns to their meeting place before the potions wear off and they transform back into humans.
They drink a fairly weak version of the Lycanthropy Potion because they can't be out too late, and because stronger versions are exponentially more expensive.
But one of their group, a boy who comes from a rich family and who really craves the transformation (you could almost say he's addicted to it), manages to acquire some of the really strong stuff. And that's where the trouble begins.
Sound interesting? I hope so. Jaylan Forester, the hero of my novel, has to deal with the fallout from the situation in my book.