Author and writing coach Larry Brooks introduced me to a writing tool called a "beat sheet." It has become my favorite story planning tool. Put simply, a beat sheet is an ordered list of the scenes in your book; an outline, more or less. The name comes from a drumming analogy, where the story milestones in your book are the "beats" of your story.
A beat sheet gives you a way to see the "big picture" of your story. Larry describes them on his blog at storyfix.com and in his book Story Engineering (see bibliography below for links). This article explains how I put one to work on my first novel, Vaetra Unveiled.
A beat sheet is a great tool for story planning before you even start writing your first draft, but it can come in handy as a post-draft diagnostic tool as well.
Using a Beat Sheet for Story Planning
When I started planning Vaetra Unveiled, I melded two story structure techniques. I started with Randy Ingermanson's Snowflake Method, which builds a story around "three disasters and an ending." I fit those plot elements into Larry's four-part story structure, in which he augments the classic "three act" structure by splitting Act 2 into two "parts."
I further applied Larry's story structure techniques from his book and added the following story milestones:
Opening
Hook
First Plot Point ("first disaster")
First Pinch Point
Midpoint ("second disaster")
Second Pinch Point
Second Plot Point ("third disaster")
Climax/Resolution
In case you are wondering, a "pinch point" is a place where the opposition (or villain) makes a move or otherwise rears up into the foreground of the story.
The cool thing about a beat sheet is that it does not have to fully describe the entire story, although you could use it that way and effectively have a complete outline of scenes before you begin writing.
You can use just about any method you want to create your beat sheet, including a pen and paper. I used Excel because it is easy to insert, move, and delete rows. You can also easily add new columns of information.
Starting simple, your beat sheet might have just two columns: one for the scene description and one for a label that identifies the story milestone reached in that scene. In fact, your beat sheet might start with nothing but milestone placeholders. You can fill in scenes as you come up with ideas for them, or even as you start writing the story.
I describe scenes by giving them a short name that would remind me what they were about, and I added a description that explains what the scene accomplishes in the story. For example, I described my first scene this way (Jaylan is my main character's name):
The Note – Jaylan receives mysterious request at Raven Company offices
Here's an example of how a simple beat sheet might start (click image to expand):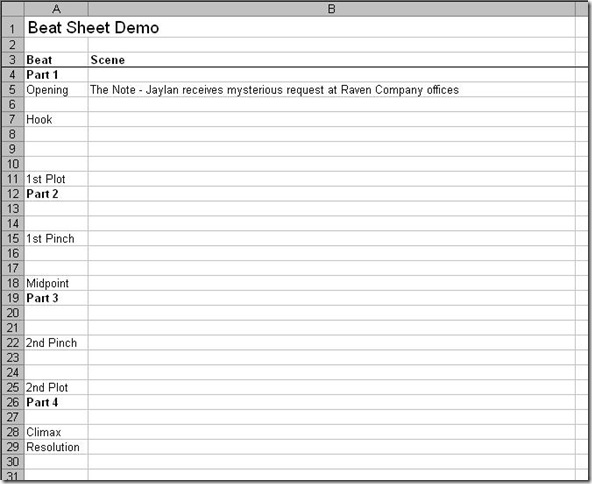 The example shows only thirty scenes, and your book will probably have more than that, but that's fine. Just insert new rows as you add more scenes. Vaetra Unveiled ended up with sixty scenes.
The goal is to start with a scene description for each of the major beats of your story (opening, hook, etc). If you can do that, writing the rest of the story is much easier. The other scenes form the connective tissue that tie together your major plot points and further develop your characters, your subplots, and your story world.
Nothing says you have to write your scenes in order. A beat sheet allows you to bounce around in the story and write the scene you want to write at that moment, all the while knowing exactly how and where that scene fits into your story.
A beat sheet helps you write faster and avoid major rewriting.
Using a Beat Sheet for Story Diagnostics
You might think that a beat sheet is only useful before you start writing and during the development of your story, but that isn't necessarily true. If you have already written a story that just doesn't seem to work, you might try putting the story into a beat sheet for review. It can help you identify what's missing and what seems out-of-order.
I used my beat sheet for Vaetra Unveiled extensively during my first draft. It evolved several times as I came up with ideas for additional columns with helpful information.
By the time I was done with the first draft, my beat sheet looked like this (click image to expand):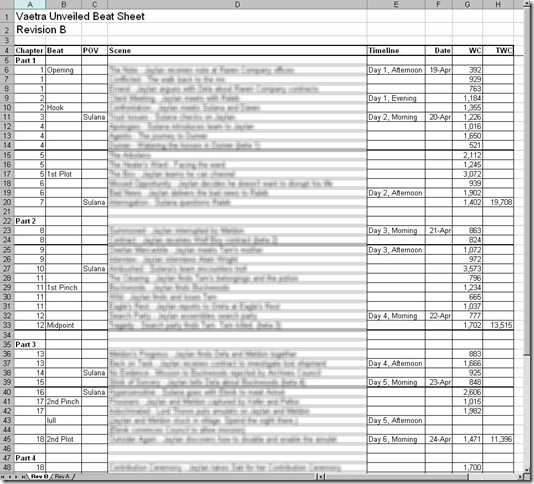 While I was writing, I found it helpful to identify which scenes were written from which point of view, so I added a POV column. (The empty cells indicate that they are in the main character's point of view.) I also added a Timeline and Date column to help me keep track of which events were happening when within the story timeline. Those columns helped me be consistent with character travel times and with simultaneous events that happened in different locations or points-of-view.
After I finished the first draft, I got ready for my revision pass. I wanted to release the book to beta readers a chunk at a time over the course of seven weeks. To do that, I decided I needed to figure out what scenes would go into which chapters, and which chapters would be part of each beta release. I added a "Chapter" column so I could assign scenes to chapters. The thick lines after some chapters indicate the break points for the beta releases.
I also added the WC (Word Count) and TWC (Total Word Count) columns. While writing the first draft, I didn't reach my word count goal, so the word counts by scene helped me quickly identify which areas of the story have the most "room" for deeper development. At the same time, it helped me keep the four parts of the story reasonably balanced.
If you are a writer who is struggling with your story or having trouble getting started with one, give a beat sheet a try. You don't have to go as far as I did with mine, you may find that just having a list of scenes gives you the perspective you need.
And the Pantsers All Screamed
Even other story planning fans may think I've gone a little too far here. Organic writers, who prefer to write by the seat of their pants (aka "pantsers"), are probably all outside throwing up right now. They often see story planning and story structure as "formulaic."
Yes, there is a formula for good story structure. But there's no formula for a good story. Story structure gives you tangible writing goals and a proven architecture for a story that entertains. It's up to you to come up with the plot and the characters that take maximum advantage of the underlying framework.
I didn't feel like my creativity was stifled at all. In fact, I felt like my creativity was liberated when I no longer had to worry about what I needed to write.
Knowing where you are going makes it far easier to relax and enjoy the journey.
Bibliography
Randy Ingermanson's Snowflake Method
Larry Brooks' Blog Post on Beat Sheets
Story Engineering by Larry Brooks