When I heard that fellow Magic Appreciation Tour author Jamie Marchant was doing a tour for her new release, I was happy to volunteer a spot on my blog. I was even more happy when she agreed to do a guest article about the magic system in her magical fantasy book series, The Kronicles of Korthlundia.
I hope you enjoy Jamie's article. I think it shows how imaginative authors can be when it comes to inventing a magic system. At the end of the article, you can find out more about Jamie and her new release, The Soul Stone, Book Two of the Kronicles of Korthlundia.
Happy reading,
Daniel R. Marvello
---
The Magic of the Joined Kingdoms
by Jamie Marchant
The most important thing to remember about magic is that it results from mixed blood, usually a mix of races, but occasionally a mix of classes will work. The more mixed the blood or the more unusual the mixture, the more powerful the magic. The requirement of mixed blood is the primary reason there is so little magic in the joined kingdoms any more. Korthlundia is a small, isolated country with a mostly homogenous population. To make things worse, the church in Lundia, the southern half of the joined kingdoms, insists that the mixing of blood is an abomination to the goddess. The clergy refuse to believe that the great Sulis would bless such an outrage against all that is sacred with her holy gift. Sulis is the goddess of healing, and her clergy are supposed to be able to heal both body and soul, but because of the ignorance of the clergy, there are few Lundian priests with true healing magic. The Korthian church, the northern half of the joined kingdoms, has a more tolerant view of mixing blood, so they have a higher percentage of true healers among the clergy.
There are three main classes of magic users. The first, as I have mentioned, are healers. Healers are able to go into a trance and join their consciousness with that of the patient. In this way they are able to feel the disease or injury and manipulate the tissue to promote healing, or they can as easily use their gift to harm. Healing is exhausting, but produces intense pleasure for the healer. Most healers exist outside the church and are looked down because of their mixed blood; they are seen as witches or demons and are not infrequently killed. One of the two main characters in The Soul Stone, Robrek, is one such healer. Slavers kidnapped Donella, Robrek's mother, from her homeland, a far distant land whose people had never mixed with those of Korthlundia. Because of the unusual mixture of his blood, Robrek grows into the most powerful healer the joined kingdoms has seen for centuries. However, having such power is not without its drawbacks. Because of his power and dark coloring, he is often called "demon seed." The local priest wanted him exposed at birth and tried to have him burned at the stake as a young man.
The second class of magic users are the auroras. An aurora can see the multi-colored aura that surrounds all people and reveals their character, including their honesty. Since the magic of an aurora rests in the womb, they are always female. The onset of an aurora's power happens when she first bleeds in the way of a woman. However, she cannot fully control her power until she has given birth to a child. Samantha, the crown princess of Korthlundia, is an aurora. One might think that such an ability would be invaluable in a monarch, but there is a problem. To be an aurora, a woman must have a mixture of common and noble blood. Since Samantha's mother was indeed noble, the fact that Samantha is an aurora means that she is not the true daughter of the king. She is, in fact, a bastard. Her gift, therefore, becomes a liability that she must hide to preserve her position and even her life.
The final class of magic users are the Bards. Bards are able to affect the emotions of their audience with their music. There has not been a true Bard in Korthlundia in over a century, and little is known about them. That is why the Bard Alvabane is such a powerful enemy of our heroes—an adversary that nearly succeeds in wiping out life in the joined kingdoms. Since Robrek and Samantha do not understand bardic magic, they have great difficulty figuring out how to stop her.
---
The Soul Stone
Book Two of The Kronicles of Korthlundia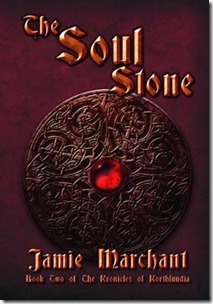 The Crown Princess Samantha and Sir Robrek struggle to solidify their rule in the aftermath of the king's murder and Duke Argblutal's attempt to usurp the throne. They are thwarted at every turn by those who seek power for themselves and desire to prevent their marriage. Just when they think their problems are solved, a deadly curse begins to spread throughout Korthlundia and Samantha becomes pregnant.
Samantha must fight off priests, enemies, and her closest advisors while Robrek discovers the reason the goddess chose him as king, to defeat the Soul Stone, a stone capable of sucking the soul out of its victims, which threatens to obliterate all life in the joined kingdoms. Their archenemy, the Bard Alvabane, awakens the Soul Stone and plans to use its power to reclaim Korthlundia for her people (a people driven out over a thousand years ago by the hero Armunn). Armunn had to sacrifice his life and soul to contain the Soul Stone. Will Robrek have to do the same? Will the young couple have only a few short months to love each other?
Where to find The Soul Stone
Book information page at Black Rose Writing
Order from Amazon.com
Order from Barnes and Noble
About Jamie Marchant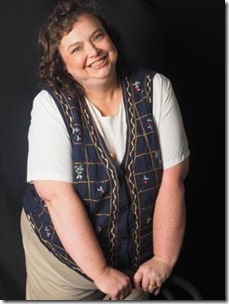 From early childhood, Jamie has been immersed in books. Her mother, an avid reader, read to her, and her older sister filled her head with fairy tales. Taking into consideration her love for literature and the challenges of supporting herself as a writer, she pursued a Ph.D. in American literature, which she received in 1998. She started teaching writing and literature at Auburn University. But in doing so, she put her true passion on the backburner and neglected her muse. Then one day, in the midst of writing a piece of literary criticism, she realized that what she wanted to be doing was writing fantasy novels. Her muse thus revived, she began the book that was to become The Goddess's Choice, which was published in April 2012. The second volume in the series, The Soul Stone, was released this June.
She lives in Auburn, Alabama, with her husband, son, and four cats, which (or so she's been told) officially makes her a cat lady. She still teaches writing and literature at Auburn University. Her short fiction has been published on Short-Story.Me, and her story was chosen for inclusion in their annual anthology. It has also appeared in the anthologies—Urban Fantasy (KY Story, 2013) and Of Dragon and Magic: Tales of the Lost Worlds (Witty Bard Publishing, 2014)—The World of Myth, A Writer's Haven, and Bards & Sages.
How to contact Jamie
Website: jamie-marchant.com
Blog: jamie-marchant.blogspot.com
Facebook: www.facebook.com/pages/Jamie-Marchant-Author/164706710298768
Twitter: @RobrekSamantha
Goodreads: Jamie_Marchant