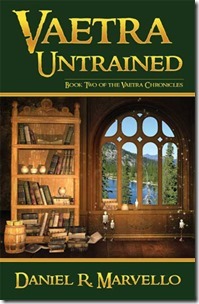 Vaetra Untrained is here at last! If you have been looking forward to book two of The Vaetra Chronicles, your wait is over.
Here's the synopsis:
In volume two of the Vaetra Chronicles, former innkeeper Jaylan Forester follows lovely sorceress Sulana Delano to the Archives College of Sorcery where he learns to use the magical power of vaetra. While Jaylan adjusts to life at the largest sorcerer sanctuary in the empire, Sulana investigates the clues left behind by their mutual enemy Paeter Thoron. When Sulana and her team are captured and held for an impossible ransom, Jaylan must decide if he will obey the will of the Archives Council and wait through the negotiations, or if he will risk everything in a desperate attempt to rescue the woman he loves.
The ebook editions are available at Amazon, Barnes & Noble, and Kobo. When Apple finally gets around to approving it, it will be on iTunes as well.
The print edition is coming soon. I've approved the proof, so it should be working its way through the distribution system to online stores any day now. You can pre-order a print copy (with optional autograph and inscription) on my publisher's web site.
Thanks to everyone who read Vaetra Unveiled. You gave me the support and inspiration I needed to write the rest of the trilogy. I'm already hard at work on Vaetra Unleashed, Book Three of the Vaetra Chronicles, and I'm having a great time with it. I'm certain you will enjoy the climactic end of the series. And in case you are wondering, yes I do have more books planned for the Vaetra Chronicles story world. Are you up for an arbolynx story? Stay tuned!
In the meantime, get yourself a copy of Vaetra Untrained, settle down in your favorite reading spot with your favorite beverage at hand, and join Jaylan and Sulana for another adventure. Happy reading!