I love learning about how other fantasy authors conceive and implement magic systems. Even though many of our systems have similar elements, I'm continually amazed by the variety that's out there and the uniqueness of each approach. No two authors seem to have exactly the same take on magical spells or devices, or on the underlying force that drives them all.
When L. Blankenship announced her blog tour for her latest release, Disciple, Part IV, I jumped at the chance to host a stop on her tour. Why? Because her tour notice included the words, "make a request if there's something you'd like to try." I naturally requested a post about her magic system.
I'm pleased to present L. Blankenship and her guest post on the kir-magic system she developed for her gritty fantasy romance series, Disciple.
---
The Magic System of the Disciple Series
by L. Blankenship
A simple plan
The kir-magic system in Disciple is rooted in three deceptively simple rules:
All magical charms (spells) are fueled by kir.
The laws of physics, conservation of mass and energy, etc., fully apply.
No other "para-normal" forces or beings actually exist.
Kir
Kir is sort of a cold plasma that's reactive to willpower. The stuff wells up out of the earth in select places called founts. Kir founts always involve a water spring as well, regardless of whether a spring "ought" to be in that location, and kir-laced water is especially bright, clear, and attractive.
There's energy inherent in kir. In its raw state, it takes the form of a green mist that even un-gifted people (or animals) can detect when it's close by or concentrated. Drinking kir-laced water or absorbing raw kir is energizing for anybody, but few people get the chance to do that. Since kir is in limited supply, it's carefully controlled.
Humans generate small amounts of surplus kir simply by living — it's an energy reserve, both biological and mental. It's only enough for one small charm every few days, though. Once used in a charm, kir disintegrates and returns to the earth.
Laws of physics
Within these, kir can do almost anything. I took a fairly conservative, reality-based version of physics — no quantum effects or anything too theoretical, and came up with these limitations:
No teleportation. Time/space can't be torn open, worm-holed or otherwise screwed with.
No clairvoyance/ESP. See above.
No true telepathy or mind reading. Body language can be read to a fine degree and that can resemble mind-reading. Saint-bonds allow for a limited sort of telepathy.
No "luck" manipulation.
No prophesy.
No "spirit-walking".
Conservation of mass applies to shape-shifters, though they can play with their density a bit if they are skilled enough.
Plus two rules:
Line-of-sight limitation. Charms cannot be targeted at something or someone the caster cannot see. If the enemy's standing behind a door, it's perfectly legit to kill him by ramming the door into the far wall — but you can't telekinetically reach through the keyhole and strangle him, for example.
Only kir cuts kir. When it's acting under the influence of a mage, kir can project force. It can be a club or a blade, but no ordinary club or blade can break it. Kir-blades also have an unnerving ability to "skip" armor or flesh and cut through the victim's vitals. So when a kir-mage goes on a rampage, the goodfolk's only defense is another kir-mage.
Only game in town
The goodfolk believe in kobolds (goblins), shades (ghosts), various denizens of the Winter Wood (hell), and things like luck, fate, or prophetic visions — but these spring from the same roots as they do in our world.
Innate skill
Everyone has at least a little ability to manipulate kir. Training will improve one's skill, but the ultimate limit is determined by innate talent. Technically speaking, this a multi-factor para-genomic predisposition which I am not going to clarify any further than that.
Saints are the strongest of the kir-mages, and the Elect are the next step down. It's said that there might be a hundred saints in the world, at any given time. Perhaps two or three hundred Elect.
As of the beginning of Disciple, Part IV, Kate has reached the rank of Elect and works directly with Saint Qadeem in defending the kingdom against the invading Empire. Kate's duties only make caring for her new baby more challenging — and make choosing between the king she loves and the knight she married all the more difficult.
Disciple, Part IV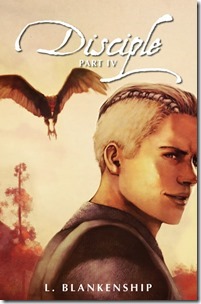 Kate can't avoid the simple truth any longer; as much as she loves Kiefan, he's now the king and his duties leave him precious little time for her and their newborn son. Kate's husband Anders, the ne'er-do-well knight, is the one who kisses her cheek every morning and soothes the baby to sleep on his shoulder.
Kiefan's protective jealousy still casts a shadow over her life. He would gladly throw Anders to the wolves if it will keep alliance negotiations from collapsing. Their homeland desperately needs these allies against the invading Empire. The kingdom barely survived the first wave of the enemy's monstrous army and more is to come.
But Kate can't stand by and let Anders become a victim — or let Kiefan suspect she's falling in love with her husband.
Disciple, Part IV is on sale now at all major retailers
New to Disciple?
The Half-Omnibus collects the first three parts into one meaty ebook.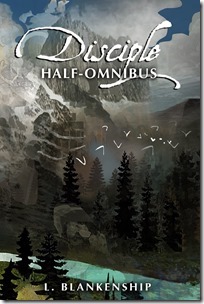 Amazon • Nook • Other retailers
Or try Disciple, Part I for only 99 cents!