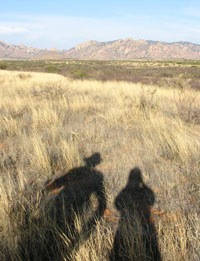 I never really thought much about character point of view (POV) until I decided to write fiction. In my non-fiction writing, I normally write in second person because I'm often giving instructions on what "you" can do to solve a problem. But fiction writers almost never use second person.
A Fantasy Detective Novel?
When I started writing Vaetra Unveiled, I chose to write in first person because I wanted the reader to step into the shoes of the lead character and experience what "I" was experiencing. I consider Jim Butcher to be one of my influences, and he uses first person in his Dresden Files series.
However, the Dresden Files is urban fantasy, while I was writing a Swords and Sorcery adventure. Most epic, historical, and adventure fantasy writers use third person. I argued with myself about that, but decided that Jaylan, my main character, actually is a private detective of sorts, as is Harry Dresden.
After my brother read the first few chapters of my book, I asked him what he thought. He was hesitant in his reply, and made a comment about it reading like a "gumshoe novel," and he wasn't sure he liked that. I had mixed feelings about his reaction. On the one hand, he had nailed the exact experience I was seeking for the reader, but on the other hand, he is a major S&S fantasy fan and other readers might share his reservations about the intimacy of the first-person viewpoint.
The Official Word
I started researching the craft of fiction writing about the same time I got started writing fiction. In fairly short order, I learned that first person is not recommended for first-time novelists. Well, darn.
I also discovered a major flaw with the first-person POV; you can't show anything that happens when the main character is not present. That became a real problem because I wanted to follow the separate travels of Sulana, a second character who was nearly as important to the story as Jaylan. The plot depended upon the two characters being thrown together, going their separate ways, and then converging again.
Head-hopping from Jaylan to Sulana in first person seemed like an exceptionally bad idea. For one thing, I didn't feel confident that I could take on a female first-person perspective. For another, the opportunity for reader confusion seemed high. One should never confuse the reader.
Would I have to abandon first person and rewrite the work I'd done so far?
I was rescued just in time by the knowledgeable editor Victoria Mixon. She posted a POV article on her blog, and I voiced my conundrum in the comments. Her suggestion was to write Jaylan in first person and Sulana in third. You can do that?
The Mixed Viewpoint Solution
I decided to try Victoria's suggestion and was thrilled with the results. All of the scenes that include Jaylan are in first person from his point of view, even if Sulana is present. All of the scenes with Sulana (where Jaylan is not present) are in third person and from her point of view (third person limited.)
I worked with my beta readers to smooth out the transitions, and I was careful to follow a few rules to minimize confusion:
Never change POV within a chapter, much less within a scene. Every POV shift happens on a chapter break.
When a POV shift does happen, make it clear whose head you're in within the first paragraph or two of the new chapter.
Limit POV shifts to just Jaylan and Sulana.
Did It Work?
For the most part, I think the first/third POV approach worked. In fact, the second book uses the same approach, although I'm expanding the POV shifts to include one more head (that of the villain.)
Based on the reviews I've received, most people don't notice the POV, which is as it should be. The people who do notice it (mostly other writers) express reservations, but conclude that it works okay for this story. That's good enough for me.
You can decide for yourself. As it turns out, the excerpt for Vaetra Unveiled at Amazon.com includes the first three chapters of the book. The first two chapters are in Jaylan's point of view, and the third chapter is in Sulana's. Check it out and tell me what you think.
*****
Do you usually notice the point of view when you read for pleasure? If so, do you have a preference? Does that preference depend upon the genre? Tell me in the comments!