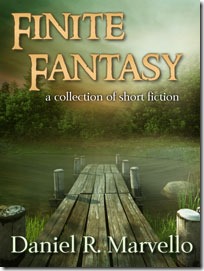 I recently put together a collection of my short fiction works and titled it Finite Fantasy. Three of the four stories have previously appeared on the Internet somewhere, but I thought it would be fun to collect all of my short works into an ebook and offer it as a free download to my readers. Even as an anthology, the book is too short for me to feel good about selling it, but I think it makes for a nice freebie.
It's a small project that isn't intended to earn revenue, so I didn't want to spend a lot of money producing it. Fortunately, I do my own ebook formatting and my wife is a professional cover designer (she did all the covers for the Vaetra Chronicles series). Unfortunately, my wife was tied up with other projects, and I didn't want to disrupt her. I decided to try creating the cover myself.
DIY can be dangerous
I'm well aware of the fact that, when it comes to book covers, "I did it myself," is often not a strong selling point. Most publishing people cringe when they hear that, unless they know you are a graphic designer by trade. Well, I'm not.
However, I figured the risk was low. I have plenty of experience with Photoshop (albeit limited to manipulating photos and creating drawings), so I'm fairly comfortable with the program. I also had my wife available as a resource if I needed help. Most importantly, I trust my wife to tell me if I've done something horrible, and I'm willing to accept her opinion on the matter. I could always throw away my efforts and wait for a break in her schedule.
Another important factor was the simplicity of the project. I wasn't trying to do anything fancy. All I needed to do was put some text over a stock image and make it look good. Of course, the devil is in the details of "make it look good."
Getting by with a little help from my friends
The cover for Finite Fantasy turned out to be a great learning project for me. I spent a lot of time perusing a stock photo site and found a background image I liked. I also downloaded several royalty-free fonts that were easily obtainable online. I discovered that fonts are addictive: you can't download just one!
In Photoshop, I learned about how to add text effects that take flat, boring typography and turn it into something with depth and character. If nothing else, going through this process has given me a new appreciation for the true art that professional cover designers can create.
I posted my first attempt on a writer's forum I frequent. Several of the forum members are cover designers, and I knew I could trust everyone there to give me honest feedback without being rude about it. Here's what I posted: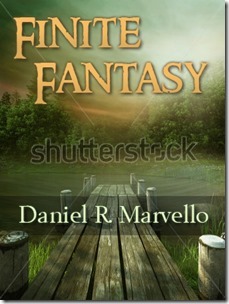 I got several good suggestions:
Brighten the title.
Move the author name down
Ditch the dark stripe under the author name
After making a few tweaks, here's what I ended up with:
In addition to taking the suggestions to heart, I added a subtitle to make it clear that the book wasn't a novel. The end result holds up well as a thumbnail and when converted to grayscale, so I'm reasonably happy with it. It got the stamp of approval from my wife and the response on the writer's forum was positive.
My plan for the collection is to release a new edition annually, adding any new short works I've created over the previous year. Sign up for my New Releases list if you want to be notified when that happens (or when I publish anything else, for that matter.)
If you would like to read the stories I put together for Finite Fantasy, please visit the web page I set up for it here on The Vaetra Files. The book is free and you can probably get through the whole thing in less than fifteen minutes.