I'd like to welcome Juli D. Revezzo back to The Vaetra Files today. Juli is a paranormal romance author I've had the pleasure of knowing since September, 2012. She is an enthusiastic participant in the Magic Appreciation Tour and has been kindly supportive of her fellow authors.
Juli is doing a blog tour to get the word out about her new release, Passion's Sacred Dance. I enjoyed the last post Juli did for me, so I invited her to stop by again. For this stop on her tour, Juli is treating us to a character profile of Aaron Fielding, one of the main characters in Passion's Sacred Dance. But this is not a typical character profile. Juli surprised me by delivering a segment of back story written as flash fiction. Pretty cool, don't you think?
I hope you enjoy it. On with the show!
About a Warrior
Aaron Fielding, now a warrior with the mythic armies of the Tuatha dé Danann, was born in the 14th century BC, in what is now Central Ireland. Born of the Gáirech tribe, he was brought up to believe in the bright Lord and Lady. He trained from an early age to defend his people from their enemies, and enjoyed nothing more than hunting. Something about the chase just always fired his spirits. He had the same feeling in battle but with the hunt, it seemed something tangible to give back to his tribe. Glory of the battle well-fought, or for the loot of the other tribe's stores, just didn't leave him the same feeling.
One day while he was out chasing his latest quarry, he happened upon a young lady who seemed to be having a bit of trouble with some men. Aaron stepped in and defended her not knowing who she was.
For his trouble the men followed him and picked a fight. Sad to say, as skilled a swordsman as he was, he ended up losing his head, the battle became confused until he realized he saw a Woman washing laundry at nearby ford. She asked him if he'd serve the Bright Lord well. Not served, serve.
Being a smart lad, he answered he had and always would. She put one hand to his heart and nodded to the men. New power seemed to flow through Aaron and, well, let's just say the attackers lost their heads. Returning home he found another tribe sought to cross their lands. Warriors who offered no quarrel and who boasted greatly of witnessing battles of the Tuatha dé Danann, back into misty history. The stories intrigued Aaron. One young druid chanced to see Aaron without his shirt and asked how he came by his scar.
His story made her go rigid.
"A woman, with raven black hair and eyes?" she said and a trance seemed to wash over her. "Know you not who she was, son? The Mórrígan has marked you."
"But why?" he wondered.
"The Bright Lord and Lady will it," the lady said, "and who could argue? For they know the ones worth knowing. As we know how to repay hospitality."
"For saving she who'll save us all. Join our ranks," she said, "and you will fight for and save more than her, forever."
But would his people, and his family, fault him for turning his back on them…for the gods?
If the gods ask you to fight for them, can you say no?
What a choice, huh? What would you say to such an offer? If you'd like to read more of Aaron's life it's laid out in my latest paranormal romance novel Passion's Sacred Dance. Would you like a little peek?
About Passion's Sacred Dance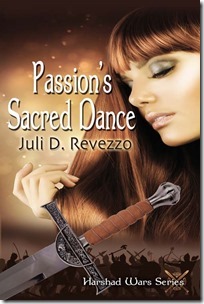 Battling mounting debt, Stacy Macken is determined not to lose her historic art gallery. When Aaron Fielding appears and offers to help, she fights to keep the attraction sizzling between them from clouding her judgment. He may be her savior in disguise–but can she trust him?
Aaron intrigues her with tales of the Tuatha dé Danann, sworn warriors who protect humanity from the monsters seeking their destruction. If Aaron can prove what he claims, she would give up anything to help–even the gallery he claims is sacred ground. But with her property set to stage the next epic battle, she needs answers. An old family diary will confirm the ancient legend is true, if only they can find it in time.
If the battle is lost, the enemy will take control of Earth for the next five hundred years. Stacy and Aaron's budding love might only complicate things.
Passion's Sacred Dance is available at: Amazon , All Romance Ebooks, Barnes and Noble, Bookstrand, Itunes, Kobo, and The Wild Rose Press
About Juli D. Revezzo
Juli D. Revezzo is a Florida girl, with a love of fantasy, science fiction, and Arthurian legend, so much so she gained a B.A. in English and American Literature. She loves writing stories with fantastical elements whether it be a full-on fantasy, or a story set in this world-slightly askew. She has been published in short form in Eternal Haunted Summer, Dark Things II: Cat Crimes (a charity anthology for cat related charities), Luna Station Quarterly, Crossing the River, An Anthology in Honor of Sacred Journeys; The Scribing Ibis: An Anthology of Pagan Fiction in Honor of Thoth, and Twisted Dreams Magazine. She's the author of The Antique Magic series and the Paranormal Romance Harshad Wars series.
She is a member of the Independent Author Network and the Magic Appreciation Tour.
You can find out more about her at her homepage: http://julidrevezzo.com/
Blog: http://julidrevezzo.com/blog
Like her on Facebook: https://www.facebook.com/pages/JD-Revezzo/233193150037011
Follow her on Google+: https://plus.google.com/u/0/111476709039805267272/posts
On Good Reads: http://www.goodreads.com/author/show/5782712.Juli_D_Revezzo
Shelfari: http://www.shelfari.com/authors/a1002694572/Juli-D-Revezzo/
On Twitter: @julidrevezzo
Thanks for hosting me—erm, Aaron and I—today, Daniel!