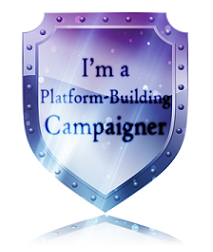 I've been looking forward to this moment. I read about Rachael Harrie's Platform-Building Campaigns several months ago and just missed being able to participate in the Second Campaign (formerly called a "Crusade.") But now is my Big Chance. Rachael just opened up the Third Campaign to participants, and I'm signing up as I write this.
The idea behind the Platform-Building Campaign is to connect authors, bloggers, and book industry people in order for them to help each other build their platforms. For an aspiring author who is new on the publishing scene like me, it is an excellent opportunity to meet other authors and engage with them. Participating in the campaign helps you build your blog traffic and your social media presence. You will probably make some great new friends as well.
Each campaign has drawn more people than the last. The first one had 55 participants and the second 217. That's a healthy growth rate!
But if you want to take part, you'd better get on it. The Third Campaign closes on August 31, 2011.
You can learn more about the campaign here:
Third Writers' Platform-Building Campaign
I hope to meet you on this campaign!