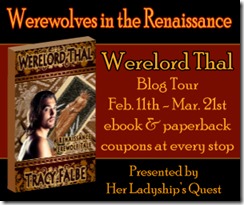 I'm happy to be hosting fantasy author Tracy Falbe today for a stop on her Werewolves in the Renaissance Blog Tour. Tracy is touring her new release Werelord Thal: A Renaissance Werewolf Tale, and she has graciously offered to share the setting for her new historical romantic fantasy, which is based on sixteenth-century Prague.
You can see a cover and book description for Werelord Thal: A Renaissance Werewolf Tale at the end of this post along with links to buy. As a special gift to my readers, Tracy is offering a discounts on the digital and print editions of the book.
Enjoy!
---
The Historic Quarters of Prague
by Tracy Falbe
Prague in the Czech Republic is famous for its well preserved architecture from various eras of European history from the Medieval to modern times. Much of my new novel Werelord Thal: A Renaissance Werewolf Tale takes place in Prague in the year 1561. To craft the scenes for my novel I researched the city as it would have appeared at that time.
During the Renaissance, Prague already had a long history as a settled place. Located on the Vltava River in Bohemia, its central location had made it an important crossroads for thousands of years. In the 16th century the city was growing. It had become the imperial seat of the Holy Roman Empire and four major quarters of the city were well established.
Old Town
The Old Town quarter emerged in the 11th century. This part of the city was built up across river from Prague Castle that occupies the high ground on the western bank. In the 1300s the Old Town Hall was built. It stands to this day and is a nearly mandatory destination for tourists. The hall has a huge pointy tower with an amazing astronomical clock. Local legend claims that in 1490 when the clock was improved by a master clockmaker called Hanus the city councilors were so anxious to prevent him from recreating his masterpiece elsewhere that they blinded the poor man.
The people of Prague and visitors can still enjoy the hourly workings of the Old Town Hall clock. Every hour the figure of the skeleton of Death emerges. The skeleton pulls on the rope that he holds in his right hand. In his left hand is an hourglass, which he raises and inverts. Two windows then open and the Apostles move slowly around led by Saint Peter. At the end of this part of the display, a cock crows and the clock chimes the hour. The other moving figures are a Turk, who shakes his head, Vanity, who looks at himself in a mirror, and Greed, who was adapted from the Medieval stereotype of a Jewish moneylender.
The Old Town Square outside the famous hall provided the historical scene for many executions, including a famous purging of Protestant leaders in 1621. In Werelord Thal, this square is where Thal's mother the witch Gretchen is burned to death.
Jewish Quarter
Prague has a historic Jewish Quarter, and the Jews were an integral part of Bohemian history. The Jewish population was largely murdered during the Holocaust, but their ancient architecture including a synagogue remains. During the 16th century oppressive laws required Jews to wear a yellow circle as a mark of shame. I did not include this specific detail in my novel, but I do make clear that the Jews in the city are considered undesirable others, deserving of death.
New Town
South of Old Town is New Town, a name that has stuck since Prague expanded into this quarter in 1348. That's not very new but newer than Old Town. It is mainly a commercial area with the hay market, cattle market, and horse market. No scenes in the novel take place directly in New Town, but Thal mentions that he wins money playing cards with merchants in New Town.
The Little Quarter
Founded in 1257 it is built on the slopes below the hills of Prague Castle. In 1560 a water tower was built on the river to pump water to dozens of fountains throughout the Little Quarter. Most of this quarter was damaged in a big fire in 1541. Because of these details, I describe the Little Quarter as full of construction projects and new buildings. Plus some scenes take place in ruined and burned out buildings that have yet to be replaced.
After researching Renaissance Bohemia and Prague for the setting of Werelord Thal, I am in love with the region and would very much love to visit. The landmarks I mentioned from the Renaissance era are still there to see, and Bohemia provides a landscape and history that inspire me greatly.
Daniel says: Thanks for visiting, Tracy. Prague sounds like a fascinating place. I look forward to seeing it "in person" through the eyes of Werelord Thal.
Werelord Thal: A Renaissance Werewolf Tale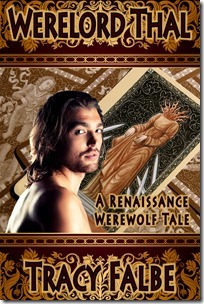 Thal is wanted for Devil worship and shape shifting but still boldly walks the streets of 16th century Prague. Jesuits hunt him. Mercenaries fear him. Musicians sing his praise, and women are captivated by his alpha swagger.
Born of a witch and a sorcerer, he is summoned when his desperate mother casts the werewolf spell before facing torture and execution. Burdened with her magical call for vengeance Thal seeks the men that killed her. His hunt is complicated when the Magistrate's stepdaughter Altea Kardas crosses his path. Horrified that her community is burning women to death, she can confide her doubt and fear only to Thal.
He desires her greatly but knows he will bring ruin upon her. Across Bohemia and beyond people who are different are labeled heretics in a restless world hobbled by tyrannical ignorance. The Renaissance has thrown the Holy Roman Empire into turmoil. Printed books are spreading radical ideas. Firearms are triggering a new age of warfare. And the human spirit is shaking off obedience.
Thal embodies the ancient magic of the pagan past. He challenges a world conquered by a spiritual system that denies the flesh and forgets the Earth. And he awakens within Altea recognition of these truths. She believes any risk is worth loving him until she becomes the bait in a trap set by Thal's enemies.
Click here to preview the first four chapters of Werelord Thal
Get your own copy of Werelord Thal
Save 25% on the ebook (Kindle, EPUB, or PDF) at Brave Luck Books:
  http://www.falbepublishing.com/braveluck/werelord-thal.html
  Regularly $3.99, enter discount code WLT25 at checkout (expires 3/31)
Save 20% on the Paperback (6×9, 356 pages) at CreateSpace:
  https://www.createspace.com/4514070
  Regularly $12.99, enter discount code CU9KJ3E3 at checkout
Also available at these retailers:
  Amazon http://www.amazon.com/dp/B00GLZ2F6K
  Nook http://www.barnesandnoble.com/w/werelord-thal-tracy-falbe/1117192602
  Smashwords https://www.smashwords.com/books/view/367520
  iTunes https://itunes.apple.com/us/book/werelord-thal-renaissance/id727404298?mt=11
  Kobo http://store.kobobooks.com/en-US/ebook/werelord-thal-a-renaissance-werewolf-tale
  All Romance https://www.allromanceebooks.com/product-werelordthalarenaissancewerewolftale-1344991-153.html
Visit Tracy's blog: Her Ladyship's Quest