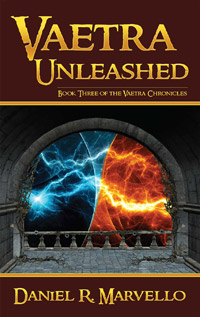 I'm happy to announce that Vaetra Unleashed, Book Three of the Vaetra Chronicles trilogy is now available! I'm thrilled to publish the final volume of the trilogy that has been three years in the making. Thanks to all of you who supported me with your purchases of Vaetra Unveiled and Vaetra Untrained. I appreciate that you were willing to dedicate some of your valuable reading time to my work.
For a limited time, I'm holding a Vaetra Chronicles Reader Appreciation Sale in conjunction with the book launch. You can get the ebook edition of Vaetra Unleashed for just 99 cents, but you have to act fast! The sale runs from now through Saturday, October 18. The ebook edition is available at these retailers:
The print edition is coming soon. I've published it, but it hasn't appeared on the vendor sites yet.
The third vaetra book is the biggest of them all, at about 120,000 words (around 470 printed pages). I think you'll enjoy how I wrapped up the saga of Jaylan and Sulana. Here's the book description:
Vaetra Unleashed, Book Three of the Vaetra Chronicles

Jaylan Forester struggles to complete his training as a Sword Sorcerer so he can join his love Sulana as an elite guardian of the Archives. But he may never attain his goal if a persistent trance called the Runedream continues to cripple his spell casting. An ancient reference suggests the Runedream may be more help than hindrance, if only he can figure out how to use it.

Sword Sorceress Sulana Delano has her own problems. Desperate to overcome the injuries she sustained in a deadly confrontation against rival sorcerer organization Thunderhead College, Sulana travels to a druid refuge. Rejected by the sorcery-intolerant high priestess, she goes into hiding so she can receive secret treatments from a compassionate druid healer.

Time is running out for Jaylan and Sulana. Headmaster Dumont Fortenz and his supporters from Thunderhead College are spreading their influence throughout the empire and subverting the Sorcery Accords. If the Archives can't find a way to stop Dumont, the empire could be torn apart by a war of sorcery.
The best way to make sure you don't miss out on opportunities like this one is to subscribe to my New Releases email list. You can also subscribe to my blog posts (see "Subscribe to new posts via email" in the side bar) or follow me through social media (see "Many Ways to Follow" links in the side bar).
Thanks again for your support! I hope you enjoy Vaetra Unleashed.