Earlier this week, my graphic designer gave me the news that the cover proof for my next release, Vaetra Untrained, is ready for final review. I'm not much for happy dances, but this moment was an exception. Having a cover brings me one step closer to making my goal of releasing the second book of The Vaetra Chronicles by June 1.
I got deeply involved in the cover design for both of my books. I had a clear concept in mind for Vaetra Unveiled, so that one came together quickly. But for Vaetra Untrained, we tried a few different concepts, so it took a lot longer. I spent hours looking through stock photography for images that would support the various alternatives.
In the end, I liked the design you see below the best. I imagine it to be the view from a room within The Archives. More specifically, the room is on the third floor above ground (the Council Level), and belongs to a Senior Councilor. The foreground image is from an amazingly talented artist who goes by the moniker "Unholy Vault." The landscape you see through the window is from a photograph that I took at the real-life site where I placed The Archives in my parallel fantasy world of Mundia.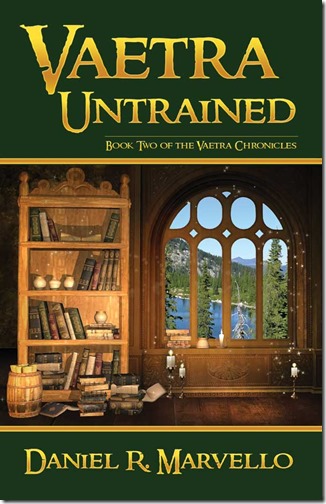 The cover seems to hold up fairly well at small size and in black-and-white, and it follows the theme set forth with Vaetra Unveiled. Most importantly, I think it says "this is magical fantasy" to potential readers.
If you click on the image, you can see a larger version. I hope you like it!