It has been a long time coming, but my new western fantasy, Geomancer's Bargain, Book 1 of the Western Geomancer series, is in the final stages of publication.  I expect to send out the release notice for it by the end of this month.
Geomancer's Bargain has been my most difficult book project to date for a variety of reasons. I'd say it was even harder than my first novel, Vaetra Unveiled. It certainly took longer, in spite of the fact that I already had four novels under my belt! I learned the hard way how much work it is to build a fantasy world within a historical context.
Things are finally starting to come together, so I figured it was time to offer an update on my progress and a teaser of things to come. My designer put together a wonderful cover, and I'd like to share it: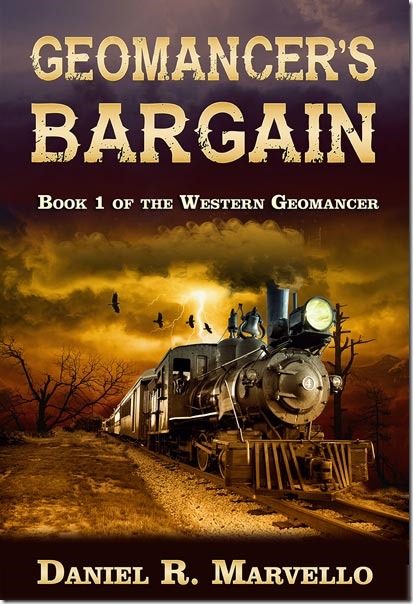 I think the designer did a great job of capturing the feel of the novel. It has a good balance of historical western influence, fantasy flair, and hints of mystery. I'm sure readers of steampunk, weird westerns, and historical fantasy will recognize the vibe and know they've found something worth checking out.
The book description is still a work in progress, but here's what I have so far:
Like many settlers, Carleton Kazimer traveled to the Western Frontier to escape something. In Carleton's case, it was a notorious Baltimore criminal gang who put a price on his head. But life in the Wild West has its own challenges for a young earth wizard.

A promising contract at a gold and silver mine in the Arizona Territory turns sour when the delvan miners who work the ore reject the assistance of a human geomancer. Determined to prove his worth, Carleton's efforts lead to trouble with the indigenous avens who populate the local mountains and revere the area's dragons.

With few allies to back him up, Carleton must find a way to salvage his contract and build a new life in the lawless desert that is far away from the civilization of home.
Between production tasks for Geomancer's Bargain, I'm writing the first draft of my second Ternion Order book. Kyle and Amanda will return with more adventures as they fight a powerful dark witch who tries to destroy everyone and everything related to Kyle's exorcism.
In the meantime, watch this space for the Geomancer's Bargain release notice and more posts related to the story world for the Western Geomancer series.
Thanks for visiting and happy reading!