I'm happy to present Finite Fantasy, an anthology of short fiction stories. This collection contains four flash fiction works, and each story has an introduction where I explain how it came about.
I'm offering this short anthology as a free gift to my New Releases subscribers and online followers. Enjoy!
---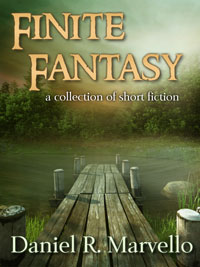 Finite Fantasy: a collection of short fiction
A story doesn't have to be long for it to be engaging and fun. In this collection, Daniel R. Marvello shares several short fantasy pieces that vary from the dark tension of "The Rune" to the excitement of brewing a potion in "Final Exam." The next time you are resisting the idea of wading into another thousand-page fantasy tome, treat your imagination to these short doses of fantasy adventure.
---
Use the links below to download your free copy of Finite Fantasy: